Privacy
Rostering/Single Sign-On and Privacy
If you choose to link your Classroom Magazines subscription to your preferred Learning Management System for seamless rostered single sign-on, you will need to give Scholastic permission to view your classes, class rosters, and related email accounts.
This is necessary in order for your students to log in using their school's LMS accounts. If you have questions about syncing with Scholastic using your preferred LMS, start here for further support.
Please note that using your Classroom Magazine website with single sign-on LMS syncing is completely optional. You do not need to give any permissions to use the website using a standard manual teacher account and shared classroom password for student access.
Interactive Google Quizzes and Privacy
In order to copy Google Form quiz files from our Google Drive account into yours, Classroom Magazines must request limited access to your Google Drive account. This is the industry-standard permissions popup you will see the first time you attempt to copy a Google Quiz from our Drive account into your own: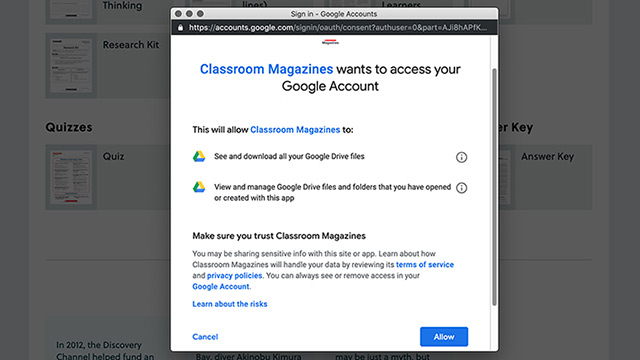 Classroom Magazines can't see or download your files. The only way our Google Drive account will "see and download" or "view and manage" your Google Drive account will be in copying an assessment file directly from our account to yours.
This is a technical requirement from Google Drive. Rest assured that we cannot see or copy your files, nor can we see or copy any data or metadata about your account or your students' accounts. Once the quiz has been copied to your account, we can no longer see any interaction with the file by you or your students.
This security clearance is industry-standard and required by apps that integrate with Google Drive. Please note that using Google Forms is completely optional. You do not need to give any permissions to use the rest of the website.
For more information on using your magazine with Google Classroom, click here.
Data Privacy Agreements